Features outstanding durability against
-Impact
-Heat
-Welding Sparks
-Repeated bending
-Lateral Pressure
Combined with the Fiber Protect Connector, a variety of sensors can be completely protected to the sensor head even with applications that require movement.
The Fiber Protector has a variety of models due to the different types of interlocking and meterials that can be used.

---

Special order products can be produced upon request for various applications.
-Fluids
-Micro-thin
-Torque transmission
-Medical purpose

---

New Product
As PVC substitute for the fiber protector sheathing material, Olefin Elastomer has been developed.Olefine Elastomer is a cost saving material which provides pliability.
Olefine Elastomer doesn't contain halogen compound and known as ECO FRIENDLY material.

---

Applications
For protection of Optical Fibers and Sensor Cables, Communication Equipment, Medical Equipment, Commercial Game Machines, Robots, Lightings, Fiber Scopes, Light Guides, Measurement Equipment, Microphone Stands, Underground Protective pipes, Shower Hose, Coverings, Gas Water Heaters and Flexible Outlet Pipes of a Water purifires.
Examples of the application

---

Insertion
Approximately 1000m of Optical fibers or cables could be insert through the flexible tube using special techniques and coiled on reel.

---

Color variation of PVC sheathing.
Standard:Glossy or Mat black, Green, Yellow, Blue, Orange, White, Grey, Pink, Red, Clear.
Please specify color after the model number. If there is no color specification, sheathing will be Glossy Black. EXAMPLE: KSP-4N(Pink)

---

Variation of PVC sheathing.

4-types of PVC sheathing
Tight Fitting
KSP-( )N
Standard Item. PVC will fill the spiral valley to make the finished surface even and smooth.


Vacuume Sheathing
KSP-( )N-B
The sheathing will be applied in a vacuum during process. The finished surface will have spiral pattern.

Bagging Sheathing

KSP-( )N-F
Sheathing only on the surface of tube and no PVC in the spiral valley, however the surface will be even and smooth.

Heat Shrinking Sheathing
KSP-( )N
Please contact for the detail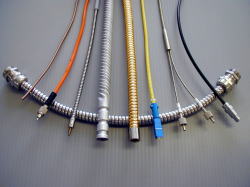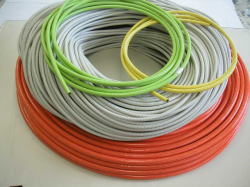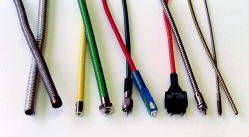 Click here to get all color HAGITEC catalog in PDF*Other window will be open for the catalog*